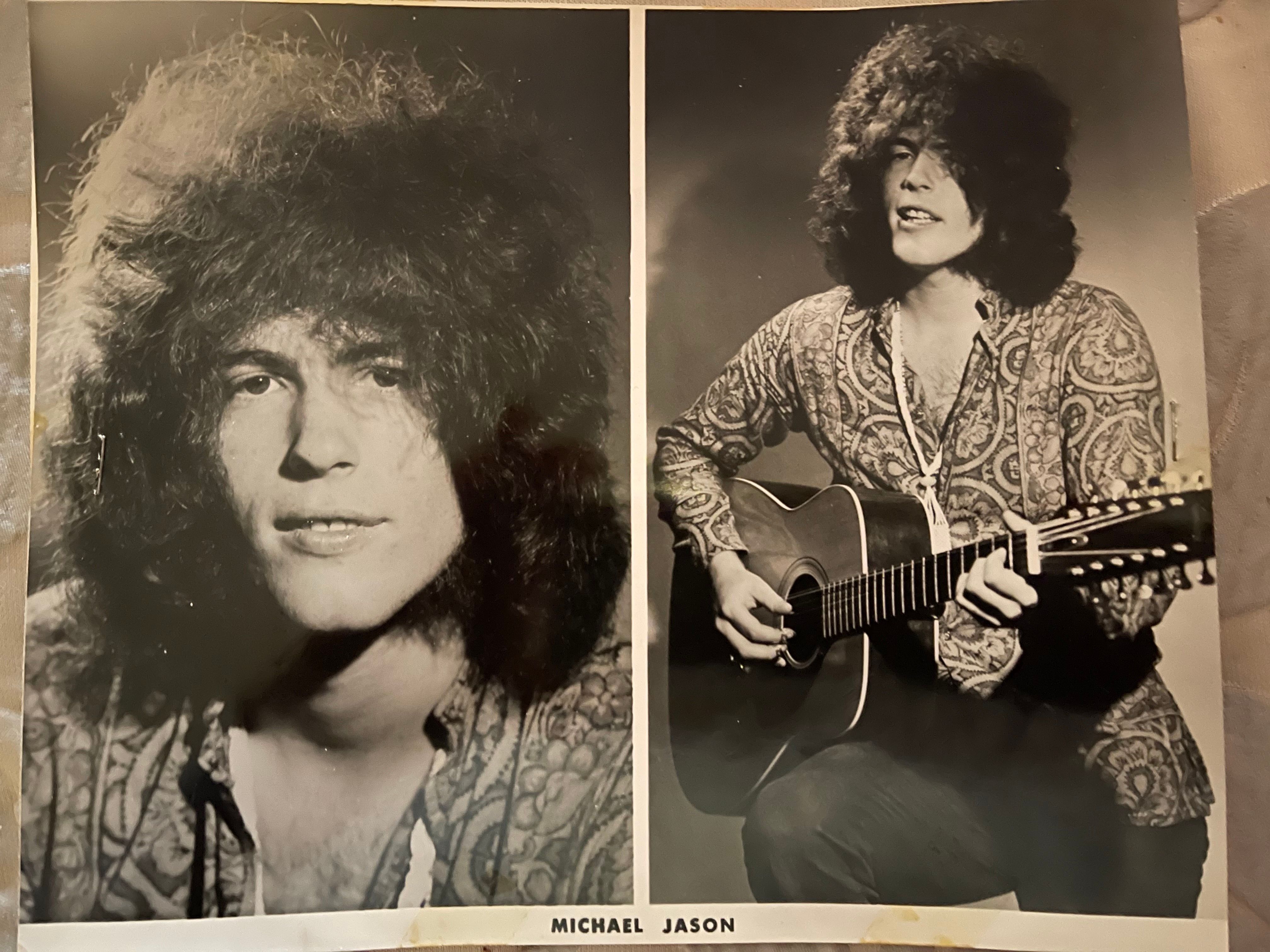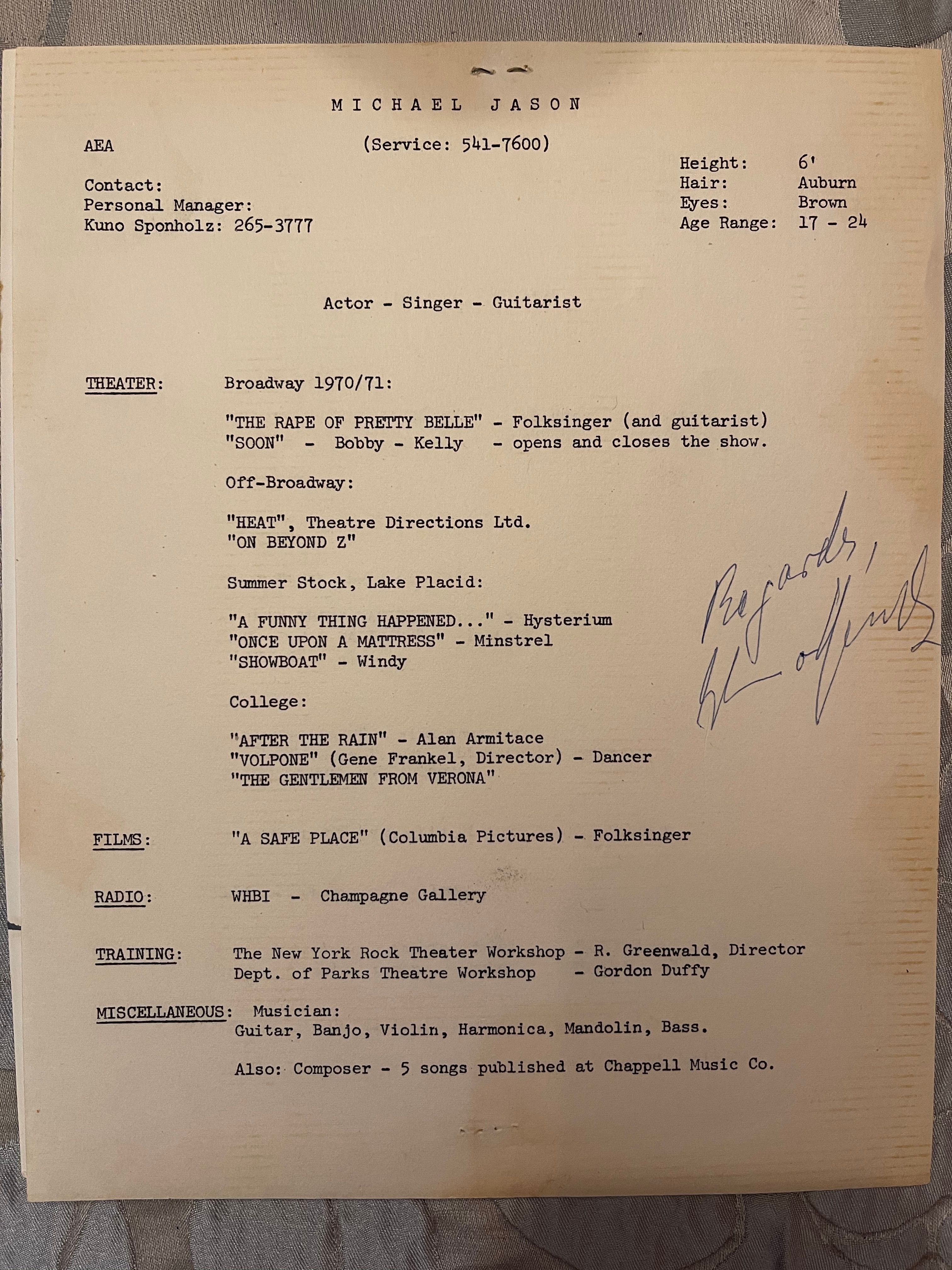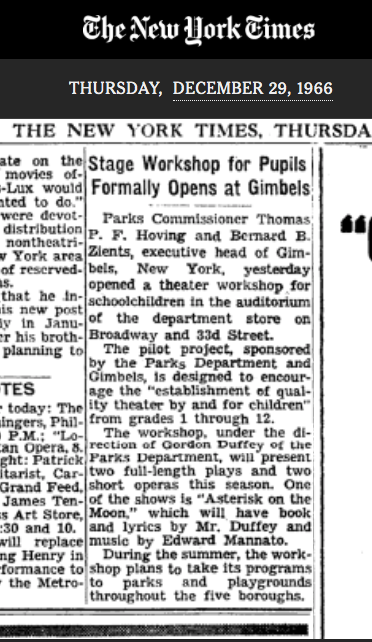 I found myself looking back with great affection to the time that the acting bug first hit. In 1966-67, a program called "The Workshop" that the NYC Department of Parks offered.  Thousands of youth auditioned, and I was one of 25 that were accepted.  Attached is an article and below an excerpt from the NYC archives: 
"The Workshop, under the direction of Gordon Duffey of the Parks Department will present two full length plays this season. The plays produced will be one musical play and two short operas for children. One play is an original musical   Asterisk on the Moon! (book and lyrics by Gordon Duffey, music by Edward Mannato). This play will be for younger children. There will also be performances of two short operas for older children,. "He Who Says Yes" and "He Who Says No" (librettos by Bertholt Brecht, music by Kurt Weill). In addition, weekly sessions in creative drama, jazz forms and movement, singing and acrobatics for the stage will be held for all children who register for the Workshop. Registration for participation in the Gimbels-Parks Department Theater Workshop will take place in Gimbels 6th Floor  Any school child in New York (from grades 1 through 12) may register for the Workshop and audition for one of the two productions." 
Yes, rehearsal was on the 6th floor of the Gimbels Department store.  My parents did not want me to go, but I made it work--I had to pay for the subway and bus fare. I want to think that their resistance was because rehearsals were on Shabbes, but I am confident that their wish for me to be a doctor was more substantial than their desire to make me Shabbat observant.  In 1966  I was 15 and in my last year of high school.  Most students would have been 17 or 18, so perhaps that was also part of the equation.  Anyway, that is why I support every artistic endeavor that my three sons pursue.  Even when I was on Broadway, to my parents, I was a failure.  It's taken years to wipe that from my memory or at least to deal with it positively.  

Anyway, getting into the NYC Theater Workshop was a fantastic achievement that filled me with pride.   We did Bertholt Brecht's "He Who Says Yes" in the style of Japanese Noh Theater.  I will never forget how we centered our bodies, crouched almost in a sitting position, and moved our legs in a stylized way. I had played Petruchio in Kiss Me Kate in high school, but this was in walking distance with Broadway, just about 20 blocks away--in the big city!   

I started Queens College in 1968 and was hugely disappointed that I was not allowed to even apply for anywhere else (where I could get away from the rents).  Tuition was free, and I lived at home and majored in drama. I got to work with Stacy Keach (who was with La Mama at that time) and director Gene Frankel (director Tony award-winning "Indians"). When I got a part in an off-broadway show, forced to decide-- school or working actor, I left school. The show was called "Heat" and workshopped at the Public Playhouse where "Hair" originated. I got my first review in a show called "Contributions," where the reviewer panned the show but loved the actor who moved the scenery with flair (me).  
In 1969 I was accepted to the  Lake Placid Playhouse Summerstock company, where I played in many shows, including a "Funny Thing Happened on My Way to the Forum" and "Showboat."  The most impressive memory of that summer was watching the moon landing. What a huge step for humankind! Mind-blowing to a kid who watched a NASA representative tell us all about the project at a school assembly in 1964!