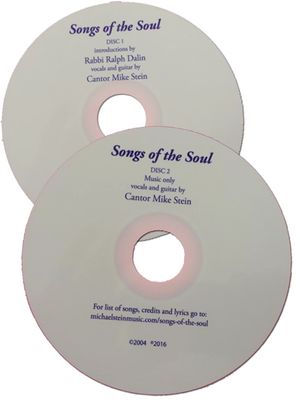 SUGGESTIONS FOR USE
Songs of the Soul
is a set containing two CDs.  
The first disc is addressed to someone facing serious illness. Each song is preceded by contemplative introductions that offer an explanation of the song and its potential meaning.  We recommend this for those who are cognitively alert and would appreciate some reflections connecting the songs to the illness they are facing. 
The second disc contains only the songs, designed to provide music that we hope the listener will find to be soothing and comforting.  It can be used for those who are not cognitively alert, whether due to illness or medication.
It can also provide enjoyment or comfort for family members and caregivers, even when serving as background music. 
While most of the songs are in Hebrew, a translation and/or explanation is given before each song in the first disc.  The words, including English translation and phonetic transliteration, can be found on this website, where you will also find the credits listing the sources and composers for each song. 
If you wish to have the music transferred to your Ipod or other mp3 player for your personal use, we recommend using only the second disc.  The first disc, which includes the introductory meditations, is designed to be listened to sequentially. 
We respectfully request that you not make copies of these CDs.  While the cover indicates that the CDs are "not for sale", you may acquire additional copies by making a donation of 18.00 (
hai
) to the LightBridge Hospice Community Foundation which funded its production.   
---
LANGUAGE USED ON THE CDs
USE OF THE DIVINE NAME
Judaism teaches that great respect should be shown in how certain Hebrew names of God are used.  Therefore, a lot of thought was given about whether or not to use the Divine name in this recording, and several traditional rabbis were consulted.  We decided to use the names (such as A-donai, E-lohim) rather than substitutes (Hashem, Elokim) because the purpose of these CDs is not to entertain, but rather to help patients to reflect or meditate or pray, and thus they serve a liturgical and potentially sacred purpose. 
There is a rabbinical opinion that the CDs containing these Divine names should not be destroyed, similar to books in which they are written.  Thus if you no longer want to use the CDs or they are damaged, they can be placed in a
genizah
or sent back to the LightBridge Hospice office. 
GENDER AND LANGUAGE
In the Hebrew language, all pronouns – including those referring to God – must be either masculine or feminine.   While we have tried to avoid using the English pronoun "He" in reference to God, in some cases – specifically the 23rd Psalm – it was retained because it is likely to be the most familiar, and usually therefore the most comforting, to the listener.  On the other hand, in the first song
Refa'einu
, reference is made to
Shekhinah
which is the feminine word for the Divine Presence.