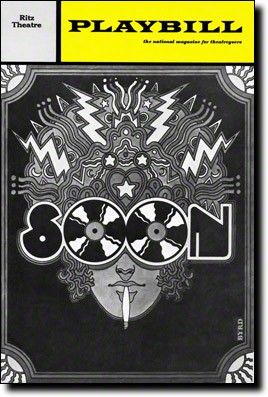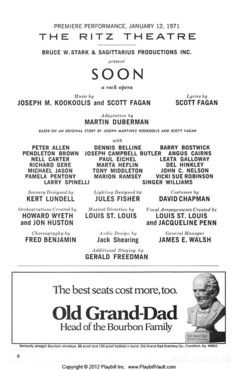 SOON TOO SOON 
"Soon" is the first Broadway musical I ever appeared in. And it opened and closed soon – too soon: after three days. I had worked for the director in a theater company on East 4th Street where I literally swept the floors and did a little acting. He got a chance to direct "Soon," and he hired me. I guess hard work pays off! It was spectacular for me to be in a Broadway show when I was still a teenager. I worked with Peter Allen, Barry Bostwick, Richard Gere, Nell Carter, Vicki Sue Robinson (Disco Fame), Joe Butler (Lovin' Spoonful), and Marta Heflin. I was in love with Marta Heflin, but she was much older than me (probably 30, but that seemed ancient). She was charming but made it clear that I was just a kid. Joe Butler and I hung around a bit. I was blown away when he invited me to his loft in the village to play music and see his recording studio. But what was truly impressive was that he had recently bought the place from John Lennon. 
I have a funny story. I forgot that a very famous actor was in "Soon;" it was probably one of his first plays. Many years later, Kelley and I went to see the movie "Chicago." Richard Gere walks down the stairs -- and I recognized his walk! I had seen him in many movies, but I'd never made the connection until then. I checked the "Playbill" for "Soon," and there was his name directly above mine! 
I was not out of work long because, lucky for me, the agent who was casting "Prettybelle" was in the audience. Word was already out that "Soon" would close, soon, so she was scouting performers. "Prettybelle" became my next show. 
After that, I started performing in backer's auditions for a show called "Inner City Mother Goose." The director was the great Tom O'Horgan. (More about him later.) I will never forget being in the living rooms of very wealthy people all over the city who might be interested in funding this show. The amount of money it cost to raise a show back then is equal to the cost today for a couple of Orchestra seats to "Hamilton." Not really, but compared to today, it was laughably cheap back then to mount a show. 
It was actually in the first show that cost a million dollars to produce, called "Dude," directed by the very same Tom O'Horgan. One of the singers in the troupe who was doing the backer's auditions gave me some excellent advice. He wanted to mentor me in the art of singing pop music, so he asked, "Why do you sing with so much vibrato?" I answered that my only reference was the cantor in my synagogue. I wanted to sound like him. So this singer worked with me, and now it's really funny: people tell me I'm a cantor who sings like a Broadway artist. Oh well, what goes around....