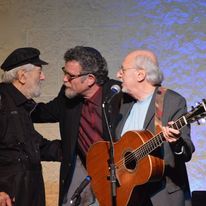 Today was an exceptional day. I was invited to be part of a panel that celebrated the legacy of Theodore Bikel z"l, called Remembering Theodore Bikel sponsored by the UCLA Milliken Center for Music of American Jewish Experience and Hillel. Theo and I become very close after I moved to LA. I met him at a Jewish festival in Chicago when I was playing fiddle with Craig Taubman. The morning after the festival was over, I came down to breakfast, and Theo was sitting all alone. I had played fiddle with him the day before, and we spoke musician talk--but now I would have to talk with him in another language. I was very nervous because he was my hero, an icon to me--and I really don't like to talk that much anyway. But he invited me to sit with him, and we had a lovely talk. What a warm and wonderful man. That was about 1995. In 2000 when I moved to LA, I was invited to a jam session at Severyn Ashkenazy's home, and Theo was there. We not only resumed our musical conversation but we became very close friends. He loved my wife Kelley and the boys, and we started to have regular jam sessions. He even came to my house for a bluegrass jam. We also did a concert at the American Jewish University called Jewgrass!! Anyway, at the soirees at Severyn's and other places, we would stay till all hours of the night, and Theo would tell stories that kept us in stitches--it was like a dream come true for me. When I first got to LA, I gave him a call. He wasn't home but left me a voice message. I did not erase that message for many years--My idol was speaking to me, and that voice---THAT voice warmed my soul.   
When Theo met Aimee, she made sure that I continued to be involved in his life, and as his health deteriorated, I was there with him more and more. I sang at his wedding to Aimee--and my sons played as well. For his 90th birthday, I produced a concert at the Saban Theater with Aimee. It was spectacular--with Peter Yarrow, Arlo Guthrie, Frank London, Lorin Sklamberg, Craig Taubman, Tom Paxton, Cathy Fink & Marcy Marxer, the Life Choir and of course the Stein boys!   
Theo and I felt like father and son. He said some very touching things to me and I knew that our relationship was extraordinary. He love my wife Kelley and my sons, and he wanted to become an honorary "Rolling Stein." 
In the year before he died, I produced a two-CD set-one spoken word the other music, including two new pieces that we recorded in his home. I co-produced this with Cathy Fink and Marcy Marxer for Red House Records. I spent hours in his living room, asking him questions and recording his story. He let me use his very special guitar which was made for him in Spain. This instrument had been silent for years. I tuned it up, but the nylon strings didn't want to cooperate. I did my best to keep it tuned, and as Theo sang, I sat in front of him and prompted him. Here was my idol, a master guitarist and singer, and I was his guide. I was playing guitar for him! I was counting the beats and reminding him of the words. It was an act of love on both of our parts--it was like taking his hand and walking him on the path. It is one of the fondest memories of my life.  
Years back, I had traveled to NYC to the funeral of his wife, Tamara Brooks. I sang the memorial prayer, and I know that he loved me being there to honor her memory. I think that I was the only person from the west coast to come. When our beloved Theo passed, I officiated at his funeral. His faithful friend, Peter Yarrow, sang, and I did my best to eulogize the most incredible human being, performer, writer and activist, that the world has ever known. It has been challenging to tell this story since his death. I still listen to the tapes of our interviews, and I get choked up. Today's event felt different, magical, and freed me up to move on. I will listen to his voice, and I will not feel sad, only grateful and joyful for knowing this great man who lived every minute of life to the fullest and graced mine.